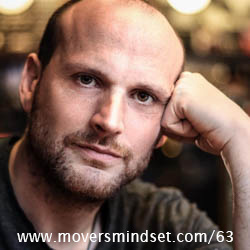 Dan Edwardes explains the value of playing games, and unpacks what motivates him. He discusses the struggle of choosing where to spend your time and energy, and the difficulty of distractions. Dan shares his insights on parkour's relationship to self efficacy, and the power and importance of storytelling.
For more information on this episode, go to https://moversmindset.com/63
Movers Mindset Forum…
Want to see, hear and learn more? …visit https://forum.moversmindset.com/
Movers Mindset focuses on movement as a mastery practice, and highlights the processes of discovery and reflection. The forum provides the opportunity to interact with and learn from podcast guests, athletes, experts, and like-minded others.