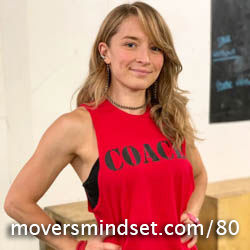 When she first learned about parkour back in '06, Nikkie Zanevsky never dreamed it would lead to her quitting her day job and starting her own movement company. Nikkie sits down to reflect on her approach to coaching, structuring classes, and creating an experience for her students. She shares her own methods of learning and growing, and how it impacts her coaching. Nikkie shares her insights on success, inclusivity and gender in parkour, and the importance of starting before you're ready.
For more information on this episode, go to moversmindset.com/80
Your support matters
Hi, Craig here! 🙂
Please support Movers Mindset on Patreon. If you find any joy or stimulation in what we create, please contribute so we can continue!