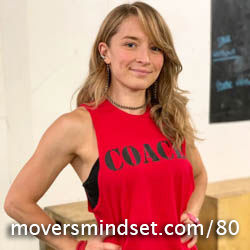 When she first learned about parkour back in '06, Nikkie Zanevsky never dreamed it would lead to her quitting her day job and starting her own movement company. Nikkie sits down to reflect on her approach to coaching, structuring classes, and creating an experience for her students. She shares her own methods of learning and growing, and how it impacts her coaching. Nikkie shares her insights on success, inclusivity and gender in parkour, and the importance of starting before you're ready.
For more information on this episode, go to moversmindset.com/80
Movers Mindset Forum…
Want to see, hear and learn more? …visit https://forum.moversmindset.com/
Movers Mindset focuses on movement as a mastery practice, and highlights the processes of discovery and reflection. The forum provides the opportunity to interact with and learn from podcast guests, athletes, experts, and like-minded others.