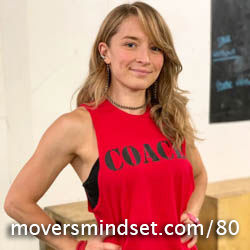 When she first learned about parkour back in '06, Nikkie Zanevsky never dreamed it would lead to her quitting her day job and starting her own movement company. Nikkie sits down to reflect on her approach to coaching, structuring classes, and creating an experience for her students. She shares her own methods of learning and growing, and how it impacts her coaching. Nikkie shares her insights on success, inclusivity and gender in parkour, and the importance of starting before you're ready.
For more information on this episode, go to moversmindset.com/80
Will you join me?
There are a lot people to talk to, and I need your support to get into their backyards and brains. That's the entire point of the podcast: I go there to talk to them so you can come along too.
The best way to support the podcast is through Patreon. You can make a difference for as little as the price of a cup of coffee once a month. Every dollar helps us get into the brains of the people that you want to hear from.