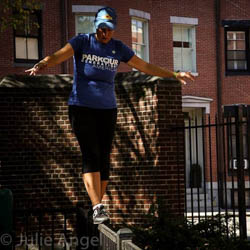 Teresa Vazquez-Dodero describes the changes and sacrifices of motherhood, both in body and mind. She explains her initial experiences with parkour, how the community drew her in, and her views on defying stereotypes in parkour. Teresa discusses her unique perspective of risk, her studies in multiculturalism, and finishes by sharing the benefits of parkour for all ages. 
For more information on this episode, go to https://moversmindset.com/39
Will you join me?
There are a lot people to talk to, and I need your support to get into their backyards and brains. That's the entire point of the podcast: I go there to talk to them so you can come along too.
The best way to support the podcast is through Patreon. You can make a difference for as little as the price of a cup of coffee once a month. Every dollar helps us get into the brains of the people that you want to hear from.