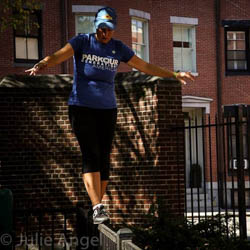 Teresa Vazquez-Dodero describes the changes and sacrifices of motherhood, both in body and mind. She explains her initial experiences with parkour, how the community drew her in, and her views on defying stereotypes in parkour. Teresa discusses her unique perspective of risk, her studies in multiculturalism, and finishes by sharing the benefits of parkour for all ages. 
For more information on this episode, go to https://moversmindset.com/39
Movers Mindset Forum…
Want to see, hear and learn more? …visit https://forum.moversmindset.com/
Movers Mindset focuses on movement as a mastery practice, and highlights the processes of discovery and reflection. The forum provides the opportunity to interact with and learn from podcast guests, athletes, experts, and like-minded others.