098. André Miller: Systema, farming, and philosophy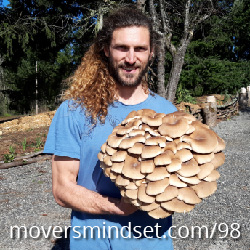 Farming is André Miller's way of life, a way that connects him physically to the land that feeds him. He discusses his relationship with athletics and his introduction to Systema. André unpacks how he came to his personal philosophy, and how it led him on the path to farming. He shares his thoughts on modern farming, and recreating connection with the environment.
Andre Miller is a movement based farmer, personal trainer, and the owner of Roots Movement Farm in Oregon. He has his Masters degree in Physiology, and Bachelors degrees in both Kinesiology and Philosophy. At Roots Movement Farm, Andre combines his knowledge of movement and philosophy to create a farm where movement and nutritional medicine work together.
For more information on this episode, go to https://moversmindset.com/98
— Why does Movers Mindset exist?
The purpose of Movers Mindset is to create and share great conversations with movement enthusiasts. Each conversation feeds my insatiable curiosity, but I share them to turn on a light for someone else, to inspire them, or to give them their next question.
In the podcast, I talk with movement enthusiasts to learn who they are, what they do, and why they do it. I'm interested in the nature and philosophy of movement and in exploring themes like independence, self-direction, and human excellence. My interests color each conversation and provide some structure to Movers Mindset. But since I like to take the scenic route, every conversation ends up going somewhere unique.
— I need your support to create and share these conversations.
I'm confident that Movers Mindset is already a success. The entire project is simply an audio podcast, and that's all it will be; I've picked that one thing and that's where I'm staying focused. I want to capture thousands of these amazing conversations, with amazing people, but I'm limited by the cost of the project. Please support what I'm doing. Every dollar really makes a difference.
— With your support you get…
Instant access to each new episode. ~ Ad-free listening for all episodes. ~ The full archive of +150 episodes of Movers Mindset. ~ Episode notes, quotes, take-aways, and transcripts. ~ Direct access to Craig to ask questions, suggest guests, etc.
And of course, my sincere gratitude for making it possible for me to continue doing what I love.
— Please make a generous leap to…