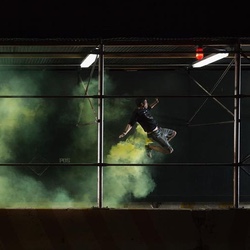 Jesse Danger takes time out from teaching parkour to share thoughtful insights on topics such as systems thinking through game design, the role of novelty, and how to work with a group toward a single focus while still honoring the individual. Along the way we also discuss life lessons learned through playing chess.
Show notes…
Training and teaching: setting aside time, scheduled, and stick to it. Discovering what works for him, dedication to training; self care, whatever he needs mentally of physically. If you're connected with how to heal yourself, you can heal others.
Movement Creative: business in reality vs business's goals. Business guidance; not doing anything offensive to his soul. Money, success, are not the goal; choosing to pursue this thing because he wants to share it, rather than making money
Systems thinking and game design: School program, took off. Started doing more classes, after school program, etc. Co-creating sessions; what is the goal, the take-away (beyond just learning parkour). Brandon Tromploy – game designer, tyranny game. Using games to teach movement, creating games with specific goals and outcomes (get better at something). Adapting, adjusting, changing games, systems, and rules; one small change can be a huge difference. Ready to play any game, rather than good at a specific one. The power of creating a game
Novelty: can create a value system around it, but everything is novel (nothing can be the same). Creating our own novel situations, novelty levels the playing field; playing to win vs playing to keep playing. Change the rules to continue the game. Games and play as a way to an end; exercising unconsciously. Novelty with people; sitting in circle with people. All in perspective, awareness, listening.
Thoughts on the big picture: parkour facilitating reflection on relationship with self, authority, competition, etc. Our own experiences limiting who is included, how to best serve different types of people while holding to ideals of what drew him in initially. Bridging gaps between people and experiences. Working on one small part of the larger picture within games, teams, etc. Respecting everyone's individual direction and masteries, but working and growing together towards a common focus.
Storytime: Parkour NYC, 2am conditioning session. Running around, jumping on things, losing people… realizing it was an atypical experience
Chess: On a team as a kid, playing, learning, competing. Playing his uncle; thinking about chess in terms of how to beat opponent in 3 moves, learning about playing position; paying attention, moving based on the board. Abstraction of chess; not making a plan or intention, but responding to the board, moving towards a greater intention. Learning, making connection, not necessarily winning.
3 words: Resilient, adaptive, delusional
Contact and further info: To get in touch with Jesse or keep up with what he's doing, you can follow him on instagram (@jesse.danger). To learn more about the Movement Creative, you can visit their website. If you'd like to hear more from Jesse, he has answered some follow up questions in the Movers Mindset Community.
Join the Forum!
Want to do more than just listen? You'll get access to exclusive content, interact directly with podcast guests, and more! Check out https://forum.moversmindset.com/

Want updates by email?
Join Movers Mindset's public email list, https://moversmindset.com/email