Lindsey Kleinberg: Experiencing nature, creating connection, and healing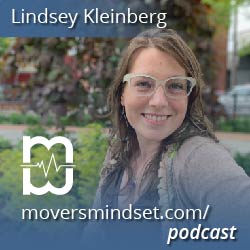 Lindsey Kleinberg advocates for nature play in the most important way; practicing what she preaches. She shares her experiences raising her family through alternative and nature education, and why it's important to her. Lindsey describes the benefits home gardening, self-care, and how she approaches creating change. She discusses books, blogging, art, and what she hopes to achieve in her community.
Lindsey Kleinberg is an educator, artist, avid gardener, and nature play advocate. She is the founder of the Finding Place LV, a Reggio-inspired micro school whose mission is to reconnect kids with nature. In addition to her Masters degree, Lindsey is certified  in many areas, including Nature-based outdoor education and School Garden Coordinator.
Intro [0:50]
Raising a family [2:08]
Ideas for raising family in a particular way
Intentional nature opportunities, affects on whole family
Strong foundations in nature and also values; planting seeds
Aha moments [9:19]
Rodale Institute volunteering story
Having everything you need; nature provides it
The importance of growing things, what you learn
Education and nature [13:57]
Waldorf: Environment as teacher, play, storytelling, natural learning
Reggio-Emilio, community learning, art, intergenerational
Modern time schedules, replenishing, connecting with nature
Ability to see and then make changes; power of touching dirt
Healing practices [22:13]
Family healing practices; Yoga, Lovely Little Lotus
Garden Buddha story
Simply standing still and being
Kids constantly outside, always working on something; part of healing
Grocery store example; addressing needs as humans
Therapuetic things: Crazy dance parties, painting, playing in mud
Art Therapy, nature, and alternative education all part of healing journey
Lindsey's recent blog post, searching for 'home'
Letter to your future self [36:39]
Continue moving forward, look back less
Nostalgia can be good, but don't let it prevent you from forward progress
Plant a seed everyday
Self care and making change [39:31]
Spent too long not caring for herself, so now thoughtful
Nature, outdoor time, blogging, reflection
Making change, self healing thoughts
Minimum things to do to be okay and a better human
Remembering how to live, not just exist
Human connection [48:16]
Sharing your work, making connections in person and online
Raising a family offline, while trying to work in the world
Books [51:50]
Billboard for the world [59:21]
'stop being a dick'
'Plant seeds of change'
Bumper sticker discussion
Art [1:02:47]
Mural in Emmaus
Leon France installation scavenger hunt
Interactive art, Juxtahub
Movers Mindset [1:07:01]
Creating movement, offering a platform
movement and heart, creating change
3 words [1:11:08]
---
— Why does Movers Mindset exist?
The purpose of Movers Mindset is to create and share great conversations with movement enthusiasts. Each conversation feeds my insatiable curiosity, but I share them to turn on a light for someone else, to inspire them, or to give them their next question.
In the podcast, I talk with movement enthusiasts to learn who they are, what they do, and why they do it. I'm interested in the nature and philosophy of movement and in exploring themes like independence, self-direction, and human excellence. My interests color each conversation and provide some structure to Movers Mindset. But since I like to take the scenic route, every conversation ends up going somewhere unique.
I really appreciate your time and attention, and I don't take it for granted.
— I need your support
I want to share more of these amazing conversations, with amazing people, but I'm limited by the cost of the project. Please support what I'm doing. Every dollar really makes a difference.
Since 2017, I've spent countless hours and dollars keeping Movers Mindset going. Everything has remained free and ad-free and alive thanks to patronage from listeners like you. I have no staff, no assistant… it's just one maniac with a mic and a keyboard. If this labor of love makes your life more livable in any way, please consider aiding said maniac's sustenance…
Support my work
— Thank you!
My personal mission is creating better conversations to spread understanding and compassion. And Movers Mindset is one of the things I do in service of my mission. Drop by constantine.name for my weekly email, my other podcasts, writing and more.
The Movers Mindset project grew from conversations I started having as part of my personal journey rediscovering movement. The project started late in 2015, and it was initially simply a web site that shared others' writing. The project grew, and in 2017 I started the podcast. I've worked extremely hard, but none of this would have been possible without so much help from so many people.
Cheers!
ɕ