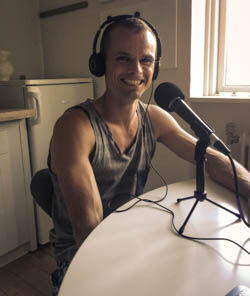 In this episode of Movers Mindset, Craig talks with Martin Kallesøe of Street Movement. They discuss Martin's unique introduction to parkour, his thoughts on coaching, and Danish Parkour's coffee culture. He also touches on his first experiences with the Yamakasi, as well as the history and culture of Street Movement and the International Gathering at Gerlev.
For more information on this episode, go to https://moversmindset.com/24
— Want to support Movers Mindset?
Hi, Craig here 🙂 Through a combination of hard work and luck I've gotten inside access to the brilliant minds and lives of people all over the world. Since 2015 I've tried to show respect and humility by giving back and sharing conversations through the Movers Mindset project. I've already been able to talk with over one hundred people, and have shared those conversations with thousands. I have a lot more work to do, but I need help.
Like, share, rate, comment and tell your friends because that's priceless! The podcast has always been completely free to listen—please help me keep it that way by helping me cover the costs. I greatly appreciate your contributions through Patreon: https://patreon.com/moversmindset
My personal mission is creating better conversations to spread understanding and compassion. And Movers Mindset is one of the things I do in service of my mission. Drop by https://constantine.name/ for my weekly email, my other podcasts, writing and more.
Cheers!