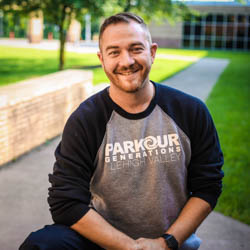 35 episodes and 2 years later, Adam McClellan returns to Movers Mindset. Adam deserves a large measure of credit because he was willing to be the original guinea pig for this crazy experiment. Our first interview was a simple Q&A style but in this episode we have an in depth conversation about the cycles a community goes through, the nature of parkour, and the type of people who are drawn to it. Adam explores the intersection of parkour and business, and how the two coexist, before discussing the nuances of coaching children. He opens up about his knee injury and recovery, his thoughts on normalizing parkour to the public, and different ways to design a parkour gym.
For more information on this episode, go to https://moversmindset.com/36
Movers Mindset Forum…
Want to see, hear and learn more? …visit https://forum.moversmindset.com/
Movers Mindset focuses on movement as a mastery practice, and highlights the processes of discovery and reflection. The forum provides the opportunity to interact with and learn from podcast guests, athletes, experts, and like-minded others.