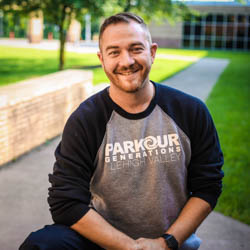 35 episodes and 2 years later, Adam McClellan returns to Movers Mindset. Adam deserves a large measure of credit because he was willing to be the original guinea pig for this crazy experiment. Our first interview was a simple Q&A style but in this episode we have an in depth conversation about the cycles a community goes through, the nature of parkour, and the type of people who are drawn to it. Adam explores the intersection of parkour and business, and how the two coexist, before discussing the nuances of coaching children. He opens up about his knee injury and recovery, his thoughts on normalizing parkour to the public, and different ways to design a parkour gym.
Supported by listeners!
The podcast is made possible by voluntary subscriptions from listeners like you. To contribute directly in support of this podcast visit, https://moversmindset.com/support — I understand that your time and money are valuable and limited. I can't thank you enough for already spending some of your time listening—but I'll try: Thank you for listening! I hope you see value in the podcast and will choose to also spend some of your money by voluntarily subscribing. Thank you for your support!
Sponsorship:
https://UmbrellaCAST.com — Need help with that project? — UmbrellaCAST, producers of the Movers Mindset podcast, provide guidance to individuals and businesses.