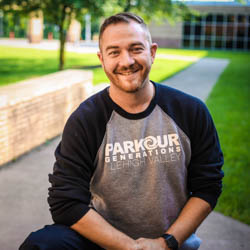 35 episodes and 2 years later, Adam McClellan returns to Movers Mindset. Adam deserves a large measure of credit because he was willing to be the original guinea pig for this crazy experiment. Our first interview was a simple Q&A style but in this episode we have an in depth conversation about the cycles a community goes through, the nature of parkour, and the type of people who are drawn to it. Adam explores the intersection of parkour and business, and how the two coexist, before discussing the nuances of coaching children. He opens up about his knee injury and recovery, his thoughts on normalizing parkour to the public, and different ways to design a parkour gym.
For more information on this episode, go to https://moversmindset.com/36
Will you join me?
There are a lot people to talk to, and I need your support to get into their backyards and brains. That's the entire point of the podcast: I go there to talk to them so you can come along too.
The best way to support the podcast is through Patreon. You can make a difference for as little as the price of a cup of coffee once a month. Every dollar helps us get into the brains of the people that you want to hear from.