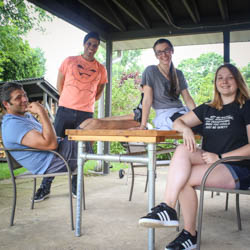 In our special 50th episode, the Movers Mindset team gets together to discuss what we do, and how far we've come. Each team member explains what they do in the team, and how all of our roles fit together. We talk about working remotely, the freedoms and challenges that come with it, and some of the strategies we use to help with that. The team discusses favorite episodes, things we've learned, and what each of us has found to be very special about the project.
Supported by listeners!
The podcast is made possible by voluntary subscriptions from listeners like you. To contribute directly in support of this podcast visit, https://moversmindset.com/support — I understand that your time and money are valuable and limited. I can't thank you enough for already spending some of your time listening—but I'll try: Thank you for listening! I hope you see value in the podcast and will choose to also spend some of your money by voluntarily subscribing. Thank you for your support!