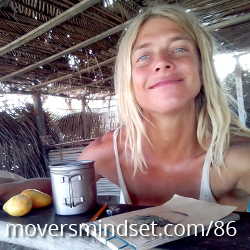 How does a professional tri-athlete become a barefoot nomad? The path has never been clearer to Jessi Stensland. She discusses the role of movement in her life, before diving into her passion: feet. Jessi unpacks her own journey of foot discovery, and shares foot recommendations for others. She describes her personal reflective practices, and her focus of prioritizing nature in her life.
Jessi Stensland is a Nature-based, movement-inspired, wild and free human currently in living in Oaxaca, Mexico. She has a background in human performance, was a college swimmer, professional triathlete and mountain sport athlete who more recently began exploring parkour and dance. Jessi is working on a concept designed to inspire a rerooting of our collective core values within Nature. She is passionate about living with Nature, moving in Nature, and about permaculture, foraging, growing food, floor sleeping and, as always: free feet.
For more information on this episode, go to moversmindset.com/86
Have you seen the Movers Mindset community?
It's free, and everything we create is there. Visit https://moversmindset.com