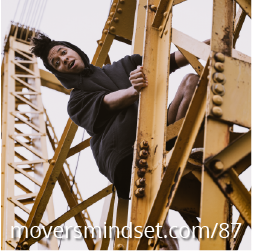 At first glance, Adam Echa is a jack of all trades, but all of his practices and interests are connected. He shares the role of music in his life, his interest in photography, and his experiences riding bicycle deliveries in New York City. Adam discusses his parkour training, flips, cross training, and filming. He unpacks his personal mindfulness practices, and reflects on where and why he wants to travel.
Adam Echa is an athlete, musician, videographer, and overall creative human. As an athlete and a coach, he works to balance his training and develop in both areas. In addition to parkour, Adam plays guitar, writes music, and occasionally performs.
For more information on this episode, go to moversmindset.com/87
Have you seen the Movers Mindset community?
It's free, and everything we create is there. Visit https://moversmindset.com