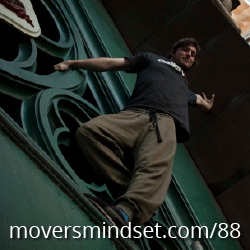 Is parkour about athleticism, or performance art? To David Banks, it is both at once. He shares his movement journey and inspirations, from martial arts to parkour to drama. David unpacks some of his projects, including the Movement Card and his various charity endurance challenges. He discusses performance art and how it relates to his parkour practice, and reflects on injury and recovery.
David Banks is an artist and mover from Glasgow, Scotland. As a co-founder of the company Ukemi, he merges his background in art and parkour by creating projects that encourage play, improve health, and make movement accessible in urban areas. David has been a part of various projects through Ukemi, collaborating on Youth Urban Games festival and creating the Ukemi card game.
For more information on this episode, go to moversmindset.com/88
Have you seen the Movers Mindset community?
It's free, and everything we create is there. Visit https://moversmindset.com