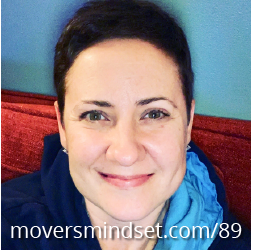 Although she is officially an 'expert' in communication, Angie Flynn-McIver simply considers herself constantly fascinated by it. Angie Flynn-McIver discusses intention; What it is, coaching it, and practicing it. She shares her own stories of intention, coaching, and travel, and gives advice on finding your guiding stars. Angie unpacks her thoughts on the power of storytelling and how to use your intention to chart your course.
Angie Flynn-McIver is a communication expert, theater director, and business woman based in North Carolina. As the founder of Ignite CSP, she uses her theater experience to coach others in effective and intentional communication. Angie and her husband are also the founders of the North Carolina Stage Company, an award winning theater in it's 19th season.
For more information on this episode, go to moversmindset.com/89
Have you seen the Movers Mindset community?
It's free, and everything we create is there. Visit https://moversmindset.com