About the show
In the Movers Mindset podcast, I talk with movement enthusiasts to find out who they are, what they do, and why they do it.
You can take a look at the Episode Listing for Movers Mindset. If you want to learn more about my podcasting work more generally, check out my creator page on Podchaser. And everything else about me can be found on my personal web site constantine.name.
But there's no need to dig in. I encourage you to simply show up. 🙂
---
Schedule yourself via Calendly
Pick a half-hour spot which works for you:
https://calendly.com/craig-constantine/movers-mindset-podcast-recording
If you don't see a day, or time-of-day, that works for you, just get back to me in whatever channel we were communicating. I'll do my best to find a date/time that works for you. Or tell me when you want me to ask you again later, ("give me a couple weeks", or "ask me again next month", …and I'll followup with you then.)
---
How everything works
Feel free to ask me questions in whatever medium we were communicating. I've tried to anticipate the common questions, but I'm happy to discuss anything in detail.
Safety net
After we stop recording, you decide if I publish it. Seriously. You get a big, safe, veto option. Published or vetoed, I'll still be glad we had a chance to have a cool conversation.
Relax
There's no need to prepare, and there's no need to show up early.
Zencaster or Zoom
If you can run the Chrome web browser on your desktop or notebook, we'll use Zencastr.com to get high-quality audio from your side. If that's not possible, we can also use Zoom but you'll be much lower audio quality. We can figure out which method we'll use after you pick your time for the call.
Record about 20 minutes
After some warm-up conversation, we'll begin the recording and dive in.
Headphones please
Please have headphones. Without headphones, my voice coming out of your speakers can be picked up by your microphone creating an echo.
Photograph
I need a basic headshot — I can simply take a screen snapshot during our call. If you want, you can send me a headshot BEFORE our call, and I'll use that—but I'm going to edit it. I can EASILY smudge out background details in the screenshot, and it gets converted into a cartoon. Here's my usual headshot as an image, and after I cartoon convert it…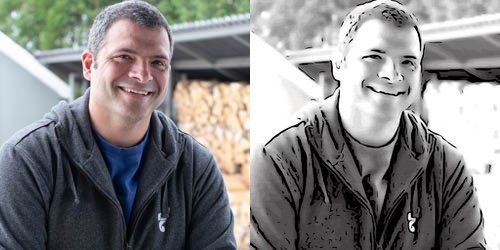 Topics and questions for our conversation
We'll have time to chat before recording so we can decide what we're talking about.
Three words to describe your practice?
I will ask you the signature "three words?" question as we near the end of our 20-minutes of recording. This question isn't meant to stress you out! But if you want to read more about it see, About the "3 words" question.
Published immediately
Your episode will be published as a podcast right after our recording session.
Can you use what we record?
Yes, of course! You may do whatever you want with what we record. When we're done recording, just ask, and I'll email you download links for the audio files.