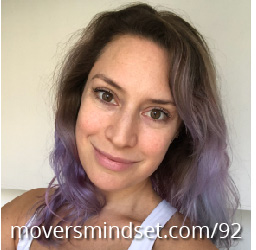 Not quite fitting in can seem negative, but it is what inspired Amy Slevin to create something new. She unpacks the role movement holds in her life, and how she came to create FlowMotion Yoga. Amy discusses her thoughts on pain and injury, particularly within parkour. She shares her personal routines, habits, and what she's been reading.
Amy Slevin is an osteopath turned yoga instructor who teaches in London, UK. She founded FlowMotion Yoga to help people feel better in their bodies, while sharing her love of movement and playfulness. Amy also teaches workshops about movement, pain, and injury, and is passionate about empowering her students through both movement and mindset.
For more information on this episode, go to moversmindset.com/92
Your support matters
Hi, Craig here! 🙂
Please support Movers Mindset on Patreon. If you find any joy or stimulation in what we create, please contribute so we can continue!