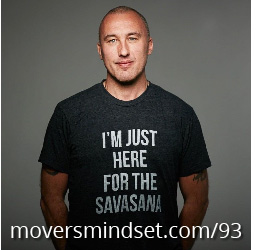 Mark Balfe-Taylor prefers to 'go with the flow' rather than plan everything out… it just so happens that his 'flow' led to a successful career as a yoga teacher and trainer. He shares his thoughts on teaching yoga, and the journey he embarked on to get there. Mark discusses the lessons he learned through traveling, and his adjustment to fatherhood. He unpacks the idea of discipline, how it's impacted his life, his practice, and his work to develop it.
Mark Balfe-Taylor is a yogi, teacher, and yoga teacher trainer who has been practicing for 15 years. He has experience and training in many different types of yoga, and spent years traveling the world teaching and learning. Mark is the creator of Revitalize, his own hot yoga sequence, and recently founded the Irie Agency, where he is creating yoga podcasts.
For more information on this episode see https://moversmindset.com/93
Your support matters
Hi, Craig here! 🙂
Please support Movers Mindset on Patreon. If you find any joy or stimulation in what we create, please contribute so we can continue!