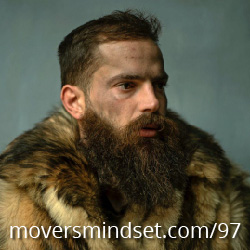 Going to a gym doesn't cut it for Kyle Koch; His movement is guided by being in nature and responding to his environment. He recounts his movement journey from beginnings to rediscovery, and explains his current training. Kyle shares his insights on learning to interact with the environment, and seeing others begin to train outside. He discusses the nervous system, the importance of training in nature, and his inspirations.
Kyle Koch is a former IT software technician turned nature nerd. He has been facilitating transformative experiences in nature for almost a decade: inspiring youth and adults to connect to their gifts through exploration, play, and curiosity. Kyle is always expanding his practice through the study and application of: functional neurology concepts, traditional strength training, martial arts (Systema), and meditation and breathing (Wim Hof Method). When not teaching or facilitating, you can find Kyle exploring ways to deepen his connection with himself, others, and the Earth.
For more information on this episode, go to https://moversmindset.com/97
— Want to support Movers Mindset?
Hi, Craig here 🙂 Through a combination of hard work and luck I've gotten inside access to the brilliant minds and lives of people all over the world. Since 2015 I've tried to show respect and humility by giving back and sharing conversations through the Movers Mindset project. I've already been able to talk with over one hundred people, and have shared those conversations with thousands. I have a lot more work to do, but I need help.
Like, share, rate, comment and tell your friends because that's priceless! The podcast has always been completely free to listen—please help me keep it that way by helping me cover the costs. I greatly appreciate your contributions through Patreon: https://patreon.com/moversmindset
My personal mission is creating better conversations to spread understanding and compassion. And Movers Mindset is one of the things I do in service of my mission. Drop by https://constantine.name/ for my weekly email, my other podcasts, writing and more.
Cheers!