Dani Almeyda and Tim Anderson: Original Strength, mission, and synergy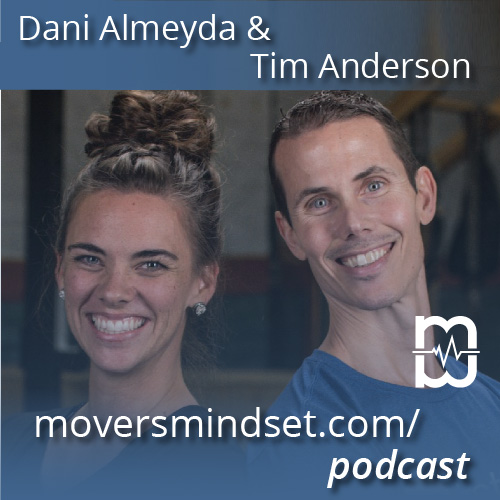 'Peanut butter and chocolate' perfectly describes Dani Almeyda and Tim Anderson's working relationship, and why they've successfully built a business together. They discuss Original Strength, what it takes to work with someone for 10 years, and why they remain passionate about their work. Dani unpacks her work with the Women's Movement Collaborative, and Tim shares his process and influences. They explain their beginnings as OS, how they've grown, and what motivates each of them personally.
Tim Anderson is an experienced fitness professional, writer, speaker, and former fire fighter. He has over 20 years of experience as a personal trainer, and is the co-creator of the Original Strength System and Original Strength Institute. In addition to fitness, he has authored and co-authored over 5 books. Tim's methodology is centered on one key principle; we are meant to feel good and be strong throughout our lives.
Danielle Almeyda is a fitness professional with over a decade of experience in the industry. She is a the co-creator of the Original Strength System as well as the Original Strength Institute, and the founder of the Women's Movement Collaborative. Dani's passion lies in helping people reclaim their movement and their hope.
Highlight [0:00] Introduction [1:09]
Synergy [3:11]
Complimentary strengths; Dani is ideas, Tim is execution
Origin story; Sweatshirt gift and loyalty
Differing approaches, but values and purpose align
Working together for over 10 years, how they work
Knowing each others style, bouncing ideas, back and forth
Purpose and mission [18:10]
Client perceptions; simply being themselves, compassionate
Goal: movement and hope; lifestyle and mindset
Shifting the lens from 'fitness' to feeling good, being capable
Tim's connection between physical and mental health, ability to be your best
Dani's growth, pushing past doubt or competition, self awareness
Focus [29:15]
Dani is always thinking ahead, new ideas
Less fitness, more wellness, movement – holistic
For Tim, it's all the same, extensions of the foundation – all his focus stays there
Started with movement, but now teaching coaches, interns, publishing, online training and consulting, but all "on mission"
Questions for each other [35:21]
Women's Movement Collaborative, Dani's project, seeing and filling a need
Connecting people, sharing experiences, collaborating
Sparking new directions
Tim's motivation and approach
Allowing space for new ideas, showing up
Conversation space [40:14]
Wanting the mics…
Asking the right questions; publicly sharing
Vulnerability, challenging each other, relatability
Looking ahead, what's next, watching each other grow
Teaching and experiencing [48:15]
Experiential teaching over explanations every time
creates trust, rapport
Your body is the best teacher
Influences and Journey [51:48]
Tim's influences; all based on kindness
John Brookfield (creator of battling ropes) and Dan John
Taking him under their wings, caring and showing kindness
Dani's parents' role in her life, coaches, husband
Learning from example of both good and bad
Small moments of learning
Women's Movement Collaborative [1:03:47]
Women's spaces; collaboration, participation, intentional changing of the typical space
Caitlin Pontrella's guidance
Creating a space of equals sharing, changing terminology
Spark storm structure, creating connection, sharing
Recharging [1:10:08]
Tim's work is his recharge; he loves what he does
Taking walks, training, and alone time
Dani's injury, riding her bike, chickens, gardening
Major recharge; going to the woods, being outside
COVID effects [1:13:53]
Used the time wisely, working behind the scenes
Technology vs in person, struggle vs opportunity
Focusing on opportunities that the pandemic brought
Huge learning experience, growth
3 words [1:18:30]
Dani: Simple, compassionate, holistic
Tim: 'Movement heals you' or 'yes you can'
---
— Why does Movers Mindset exist?
The purpose of Movers Mindset is to create and share great conversations with movement enthusiasts. Each conversation feeds my insatiable curiosity, but I share them to turn on a light for someone else, to inspire them, or to give them their next question.
In the podcast, I talk with movement enthusiasts to learn who they are, what they do, and why they do it. I'm interested in the nature and philosophy of movement and in exploring themes like independence, self-direction, and human excellence. My interests color each conversation and provide some structure to Movers Mindset. But since I like to take the scenic route, every conversation ends up going somewhere unique.
I really appreciate your time and attention, and I don't take it for granted.
— I need your support
I want to share more of these amazing conversations, with amazing people, but I'm limited by the cost of the project. Please support what I'm doing. Every dollar really makes a difference.
Since 2017, I've spent countless hours and dollars keeping Movers Mindset going. Everything has remained free and ad-free and alive thanks to patronage from listeners like you. I have no staff, no assistant… it's just one maniac with a mic and a keyboard. If this labor of love makes your life more livable in any way, please consider aiding said maniac's sustenance…
Support my work
— Thank you!
My personal mission is creating better conversations to spread understanding and compassion. And Movers Mindset is one of the things I do in service of my mission. Drop by constantine.name for my weekly email, my other podcasts, writing and more.
The Movers Mindset project grew from conversations I started having as part of my personal journey rediscovering movement. The project started late in 2015, and it was initially simply a web site that shared others' writing. The project grew, and in 2017 I started the podcast. I've worked extremely hard, but none of this would have been possible without so much help from so many people.
Cheers!
ɕ