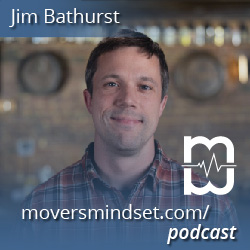 When Jim Bathurst first began his fitness blog in college, he never imagined it would lead to a successful career as a personal trainer and coach. He shares his journey from athlete to coach, and how he approaches helping people. Jim discusses setting and achieving goals, recharging his energy, and music. He reflects on changes with Beast Skills and Nerd Fitness, and recent challenges he's faced.
Jim Bathurst is an acrobat, weightlifter, personal trainer, head of Fitness at Nerd Fitness, and the creator of Beast Skills. He is a Certified Strength and Conditioning Specialist with the NSCA and has been coaching people for 15 years now. During that time, he received the award of Best Personal Trainer in Washington DC, as well as the award for Best CrossFit Gym while he was Director of CrossFit Foggy Bottom. Jim brings his experience in gymnastics and calisthenics to his work outs and tutorials, breaking down difficult bodyweight exercises into manageable progressions.
Can you support our work via Patreon?
Hi, Craig here 🙂
Through a combination of hard work and luck I've gotten inside access to the brilliant minds and lives of people all over the world. Since 2015 I've tried to show respect and humility by giving back and sharing conversations through the Movers Mindset project. I've already been able to talk with over one hundred people, and have shared those conversations with thousands.
I have a lot more work to do, but I need help. If you are able, I would be honored if you could contribute by supporting the Movers Mindset project on Patreon.
https://patreon.com/moversmindset
…and I completely understand if that's not feasible for you. If you want to help me in another way, simply go start a conversation with someone. Even better, start a conversation with someone you don't already know. Ask questions. Practice listening. Repeat.
My personal mission is creating better conversations to spread understanding and compassion. And Movers Mindset is one of the things I do in service of my mission. Drop by https://constantine.name for my weekly email, my other podcasts, writing and more.
Cheers!