Solo – with Bane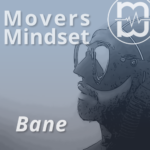 Craig Constantine and Bane free-dive into the world of training alone, where challenges are intrinsic and progress is incremental.
Bane discusses the personal nature of parkour practice. He emphasizes the idea that "your movement is your own," highlighting the deeply individualized and intrinsic aspect of the discipline. He also discusses the balance between solo training and group training, noting that both have their advantages. He recognizes the value of training with others for inspiration and learning different movement styles, while also emphasizing the benefits of solitary practice for self-discovery and personal goals.
I'm not worried about forcing it and making it happen… I'm going to do it when I'm ready to do it and it's about coaxing that readiness out of me.

~ Bane, 29:20
Balancing Solo and Group Training: While solo training provides personal introspection and development, group training offers opportunities to learn from others, gain inspiration, and push boundaries. Bane suggests that striking a balance between the two can lead to a more well-rounded parkour journey.
Sustainability and Flexibility in Training: Bane emphasizes the importance of sustainable training practices. Instead of rigidly adhering to a strict training regimen, he advocates for flexibility in incorporating various physical activities and training methods, which not only enhances physical capabilities but also prevents burnout.
Patience and Mindful Progression: Bane's approach underscores the importance of patience and mindful progression. This mindset not only ensures safety but also fosters a deeper understanding and mastery of the discipline.
Learning from Different Environments: The discussion touches upon the significance of training in diverse environments.
Your movement is your own. It's so personal in parkour… your challenges are intrinsic to yourself, to what you want to achieve, to what you're capable of.

~ Bane, 25:00
Personalization of Parkour: Parkour is a deeply personal practice. Participants have the freedom to define their own goals, challenges, and techniques.
Books mentioned: Breaking the Jump by Julie Angel, Born to Run by Christopher McDougall
(Written with help from Chat-GPT.)
---
— Why does Movers Mindset exist?
The purpose of Movers Mindset is to create and share great conversations with movement enthusiasts. Each conversation feeds my insatiable curiosity, but I share them to turn on a light for someone else, to inspire them, or to give them their next question.
In the podcast, I talk with movement enthusiasts to learn who they are, what they do, and why they do it. I'm interested in the nature and philosophy of movement and in exploring themes like independence, self-direction, and human excellence. My interests color each conversation and provide some structure to Movers Mindset. But since I like to take the scenic route, every conversation ends up going somewhere unique.
I really appreciate your time and attention, and I don't take it for granted.
— I need your support
I want to share more of these amazing conversations, with amazing people, but I'm limited by the cost of the project. Please support what I'm doing. Every dollar really makes a difference.
Since 2017, I've spent countless hours and dollars keeping Movers Mindset going. Everything has remained free and ad-free and alive thanks to patronage from listeners like you. I have no staff, no assistant… it's just one maniac with a mic and a keyboard. If this labor of love makes your life more livable in any way, please consider aiding said maniac's sustenance…
Support my work
— Thank you!
My personal mission is creating better conversations to spread understanding and compassion. And Movers Mindset is one of the things I do in service of my mission. Drop by constantine.name for my weekly email, my other podcasts, writing and more.
The Movers Mindset project grew from conversations I started having as part of my personal journey rediscovering movement. The project started late in 2015, and it was initially simply a web site that shared others' writing. The project grew, and in 2017 I started the podcast. I've worked extremely hard, but none of this would have been possible without so much help from so many people.
Cheers!
ɕ