Adam Dipert: Space juggling, physics, and changing your perspective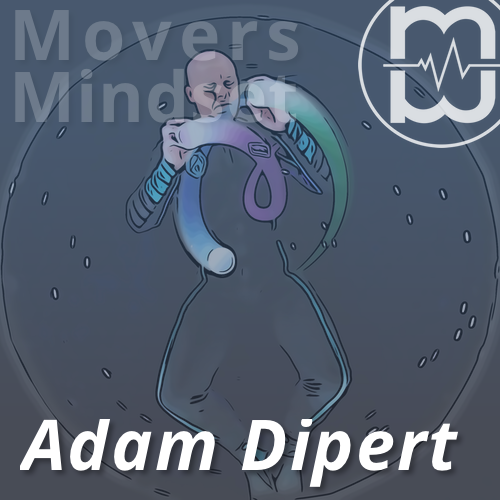 Adam Dipert is a Postdoctoral Research Scholar in Physics at North Carolina State University and has wowed audiences as a professional circus performer for nearly twenty years. He started studying human movement in weightlessness in preparation for his first parabolic flight in 2016, and since then he has logged countless hours exploring the frontiers of microgravity flow in pools, aerial harnesses, flotation tanks, wind tunnels, and airplanes. In addition to developing a new suite of dance moves for outer space, he has exercised remarkable restraint not asking NASA for permission to spin fire on the ISS.
And you've become only eyes, because you now no longer have a way of sensing where your body is. And not only do you only become eyes, but you're also experiencing tunnel vision. And so when you enter weightlessness, and start to develop the skills which will be necessary to become a competent movement artist in that environment, you have to first figure out how to re inhabit your body and how to come back from just being eyes and realize that you have a head and find out where your arms are, and have some idea about where your arm is, say when it's behind your back because, you know, right now on Earth, probably everybody listening to this is on earth, waving your arm. Yeah, you put your arm behind your back and and what is it that tells you where your arm is? It's the tension in your shoulder, right? It's the torque in your arm, elbow. It's it's a lot of things that are all gravitationally oriented. And so you have to come with a totally new set of skills.

~ Adam Dipert
This episode is far out, and far ranging. Adam and I managed to coordinate a recording session with little advanced notice… and then we proceeded to go wide and deep on circus stuff, juggling, physics, mathematics, and movement in weightlessness.
Finally, since I clearly cannot cram the visuals into the audio, you simply must float over to Adam's web site: TheSpaceJuggler.com
---
— Why does Movers Mindset exist?
The purpose of Movers Mindset is to create and share great conversations with movement enthusiasts. Each conversation feeds my insatiable curiosity, but I share them to turn on a light for someone else, to inspire them, or to give them their next question.
In the podcast, I talk with movement enthusiasts to learn who they are, what they do, and why they do it. I'm interested in the nature and philosophy of movement and in exploring themes like independence, self-direction, and human excellence. My interests color each conversation and provide some structure to Movers Mindset. But since I like to take the scenic route, every conversation ends up going somewhere unique.
I really appreciate your time and attention, and I don't take it for granted.
— I need your support
I want to share more of these amazing conversations, with amazing people, but I'm limited by the cost of the project. Please support what I'm doing. Every dollar really makes a difference.
Since 2017, I've spent countless hours and dollars keeping Movers Mindset going. Everything has remained free and ad-free and alive thanks to patronage from listeners like you. I have no staff, no assistant… it's just one maniac with a mic and a keyboard. If this labor of love makes your life more livable in any way, please consider aiding said maniac's sustenance…
Support my work
— Thank you!
My personal mission is creating better conversations to spread understanding and compassion. And Movers Mindset is one of the things I do in service of my mission. Drop by constantine.name for my weekly email, my other podcasts, writing and more.
The Movers Mindset project grew from conversations I started having as part of my personal journey rediscovering movement. The project started late in 2015, and it was initially simply a web site that shared others' writing. The project grew, and in 2017 I started the podcast. I've worked extremely hard, but none of this would have been possible without so much help from so many people.
Cheers!
ɕ