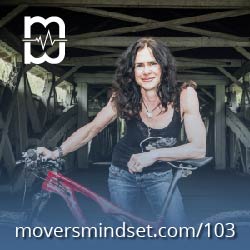 Selene Yeager doesn't shy away from topics other might avoid; in fact, she is leading the conversation around menopause. She shares her journey into creating a podcast about menopause, and her own experiences with menopause. Selene explains her thoughts on diet, nutrition, health tracking, and cycling. She discusses her relationship with writing, and what she's currently reading.
Selene Yeager is a professional health and fitness writer, cycling and nutrition coach, personal trainer, athlete, and podcast host. She has written articles for many publications, including Bicycling Magazine, Runner's World, and Men's and Women's Health, in addition to authoring, co-authoring, and contributing to over 2 dozen books. Beyond writing, Selene is the host of Hit Play Not Pause, a podcast focusing on menopause for athletes.
For more information on this episode, go to moversmindset.com/103
Have you seen the Movers Mindset community?
It's free, and everything we create is there. Visit https://moversmindset.com