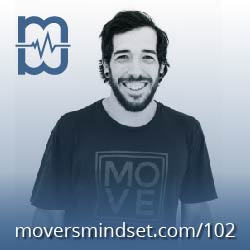 Playing tag on national television was never something Mike Araujo imagined when he started training parkour. He discusses his path in parkour and the opportunities he's gained from it. Mike shares his experiences with World Chase Tag, and his thoughts on competition. He explains his personal definition of parkour, sharing it with others, and his thoughts on how the community has changed.
Mike Araujo is an athlete and head coach with the Movement Creative. He has trained parkour in NYC for over a decade, and coached nearly as long. Mike often travels for parkour, and recently competed in World Chase Tag's first USA based event.
For more information on this episode, go to moversmindset.com/102
Your support matters
Hi, Craig here! 🙂
Please support Movers Mindset on Patreon. If you find any joy or stimulation in what we create, please contribute so we can continue!