Intentional – with Auraiya Madrid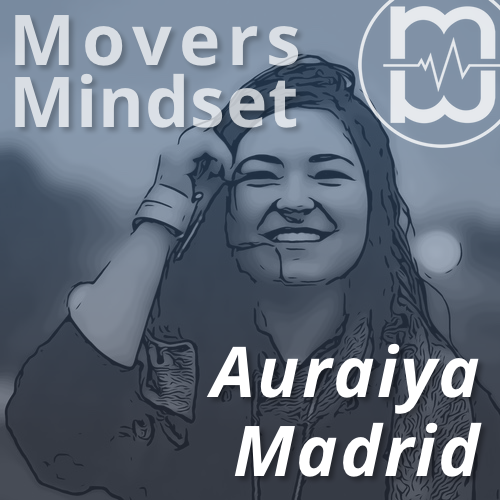 Auraiya Madrid highlights the significance of creating meaningful relationships, embracing creativity, and being intentional in her practice, offering insight into her journey as a performer, athlete, and gym owner.
I try to live my life [without regrets] because you do the best with what you know and what you have at the moment. Generally, as long as you're doing that, that's all you can do.

~ Auraiya Madrid 18′ 55″
Craig Constantine talks with Auraiya Madrid. They explore her dynamic approach to life as a self-described "Hobby Hoarder," constantly embracing new projects and challenges. They discuss the transition from performer to content creator and the importance of building authentic connections with audiences. The conversation also dips into Auraiya's experience founding Edge Movement, a parkour gym, and the valuable lessons learned. Throughout the conversation, Auraiya emphasizes the significance of creativity, diversity, and intentionality in her practice.
"Creativity is definitely a skill set … anyone who doesn't think they have it, that just means they haven't practiced it. You can always get better at creativity." ~ Auraiya Madrid ~3′ 20″
Take-aways
The best takeaways from this conversation with Erica Auraiya Madrid are:
Embracing Diverse Interests: Erica is a self-described "Hobby Hoarder" who enjoys exploring various activities like movement, arts and crafts, music, and more. Embracing diverse interests can lead to personal growth and creativity.
Creativity as a Skill: Erica emphasizes that creativity is a skill that can be developed with practice. It's not limited to a select few, and anyone can become more creative through consistent effort.
Prioritizing People and Mentorship: Erica prioritizes paying her coaches well and fostering strong mentor-student relationships. She believes in the importance of investing in people's growth and providing a positive influence in their lives.
Resources
Edge Movement — https://www.edgemvmnt.com
@auraiyamadrid on IG — https://www.instagram.com/auraiyamadrid/
(Written with help from Chat-GPT.)
---
— Why does Movers Mindset exist?
The purpose of Movers Mindset is to create and share great conversations with movement enthusiasts. Each conversation feeds my insatiable curiosity, but I share them to turn on a light for someone else, to inspire them, or to give them their next question.
In the podcast, I talk with movement enthusiasts to learn who they are, what they do, and why they do it. I'm interested in the nature and philosophy of movement and in exploring themes like independence, self-direction, and human excellence. My interests color each conversation and provide some structure to Movers Mindset. But since I like to take the scenic route, every conversation ends up going somewhere unique.
I really appreciate your time and attention, and I don't take it for granted.
— I need your support
I want to share more of these amazing conversations, with amazing people, but I'm limited by the cost of the project. Please support what I'm doing. Every dollar really makes a difference.
Since 2017, I've spent countless hours and dollars keeping Movers Mindset going. Everything has remained free and ad-free and alive thanks to patronage from listeners like you. I have no staff, no assistant… it's just one maniac with a mic and a keyboard. If this labor of love makes your life more livable in any way, please consider aiding said maniac's sustenance…
Support my work
— Thank you!
My personal mission is creating better conversations to spread understanding and compassion. And Movers Mindset is one of the things I do in service of my mission. Drop by constantine.name for my weekly email, my other podcasts, writing and more.
The Movers Mindset project grew from conversations I started having as part of my personal journey rediscovering movement. The project started late in 2015, and it was initially simply a web site that shared others' writing. The project grew, and in 2017 I started the podcast. I've worked extremely hard, but none of this would have been possible without so much help from so many people.
Cheers!
ɕ